Today I wanted to share an awesome new feature of System Center 2012 R2 Virtual Machine Manager, which is the ability to bare-metal deploy your file servers and form the cluster to be used as a scale-out file server using System Center 2012 R2 – Virtual Machine Manager. I also wanted to include how you can use SCVMM to manage your Scale-Out File Server and Storage Spaces such as creating storage Pools and shares.
Build of Materials
First things first I want to share the build of materials for my particular file server cluster. This BOM is by no means a reference to build your SOFS cluster, I am simply including the hardware I am using which is what I happened to have lying around the lab for testing purposes. Below is a quick snapshot of the servers and SAS enclosure I am using:
Servers (2 HP DL360P G8's)
| | | |
| --- | --- | --- |
| Quantity | Model # | Description |
| 2 | 646901-001 | HP DL360p Gen8 E5-2630 Base US Svr |
| 16 | 647893-B21 | HP 4GB 1Rx4 PC3L-10600R-9 Kit |
| 4 | 652605-B21 | HP 146GB 6G SAS 15K 2.5in SC ENT HDD |
| 2 | 647581-B21 | HP Ethernet 10Gb 2P 530FLR-SFP+ Adptr |
| 2 | 650926-B21 | HP H222 Host Bus Adapter |
| 2 | 656362-B21 | HP 460W CS Plat PL Ht Plg Pwr Supply Kit |
| 1 | BK765A | HP D2600 2TB 3G SATA LFF 24TB Bundle |
| 4 | 407339-B21 | HP Ext Mini SAS 2m Cable |
### HP DS2700 (Direct Attached SAS Enclosure)

For this lab I got a bundled HP D2700 that came with 10 x 1TB SAS drives. It is important to note that these drives are dual domain, if these were SATA drives (Single Domain) they would not work for this cluster configuration as both servers would not be able to use the drives over SAS simultaneously.
| | | |
| --- | --- | --- |
| Quantity | Model # | Description |
| 1 | QK770A | HP D2700 w/10 1TB 6G SAS 7.2K SFF Dual port MDL HDD 10TB Bundle |
## Procedure to Deploy SOFS and Cluster Nodes from Bare-Metal with SCVMM

The following procedure is going to explain at a high level how to deploy your file server cluster using VMM. It should be noted that I am already assuming some familiarity with VMM and bare-metal deployment. I also already have my VMM environment functional with a PXE server added to the fabric.
Creating the Physical Computer Profile
You will notice that in VMM 2012 R2 they got rid of Host Profiles and added Physical Computer Profiles instead. When you go to create one of these you will have the option of creating either a VM Host or a Windows File Server.
In the VMM Console, Navigate to the Library pane > Expand Profiles > Select Physical Computer Profiles > right click and select Create Physical Computer
When this wizard opens you will need to type a useful name and set the role to Windows File Server
On the OS Image page of the New Physical Computer Profile Wizard you need to select your Server 2012 R2 VHDX file which this server will boot from, this should by a sysprepped native boot VHDX file. 
On the Hardware Configuration page of the New Physical Computer Profile Wizard you need to configure your network settings. In my particular case I added an additional Physical Network Adapter because my hosts will have two and I set the CDN (Consistent Device Name) for each of these NICs. I am also leaving my NICs on DHCP for the purposes of demonstrating this technology.
On the OS Configuration page you need to specify the domain you wish to join, a Run As account with permissions to join computers to the domain, Time Zone, Product Key etc. 
On the Summary page review your settings and click finish, that is as simple as it is to create the Physical Computer Profile for a file server.
Deploying your Cluster
It should be noted that I already have my servers cabled up, along with the Shared SAS enclosure before deployment. I have also configured my servers to PXE boot first in the boot order.
Validating your Cluster
After deployment, if you open the Failover Cluster manager and point to, in my case the SOFS00 cluster I can validate that this cluster is indeed present and that VMM deployed the SOFS01 Scale-Out File Server role

You can also view the cluster validation reports which will be stored one each of the SOFS nodes in the following location: $windir$WindowsClusterReports

Managing Spaces and SOFS Through SCVMM
The nice thing about deploying your File Server cluster using VMM is the VMM agent is already deployed, and the file server cluster will already be added to VMM so you can jump right in and start managing storage. Navigate to the Fabric pane in SCVMM > Expand Storage > Click File Servers and you will see that you can see your SOFS cluster role already added to VMM: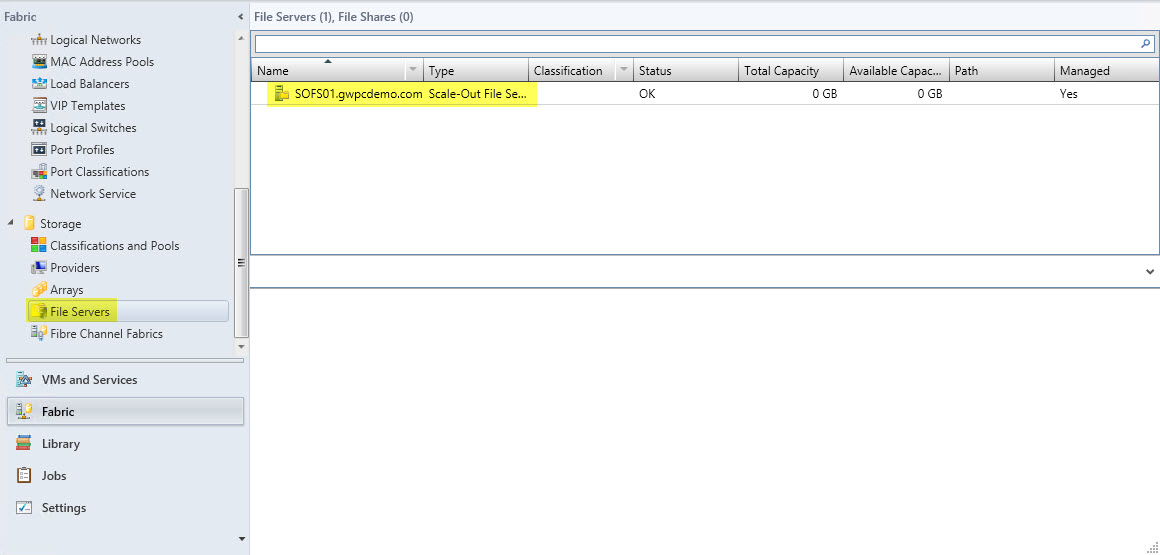 Create Storage Pool
With this Scale-Out File Server I am going the way of storage spaces, the 10 1TB disks in the SAS enclosure are currently JBOD so we can go ahead and pool these disks.
Right click on your SOFS server in VMM and click Manage Pools
Once the Manage Pools of File Server window opens you can observe that there are currently not any pools on this server. We can then click New to create a new pool. 
Create File Shares
Now that we have our pool defined we can move right into create File Shares on our SOFS server using our storage Pool.
Click Create File Share in the ribbon once you have your SOFS server selected
Once the Create File Share wizard comes up we can give our share a Name, Description, define the Storage Pool we are going to use, select the previously created Classification set the Size in MB (this is for a 1TB share) and finally set the resiliency of the share, this one will be a 3-way mirror – This is the part where we are actually creating a space on the Pool of disks!

Summary
It should be noted that there are some optimizations that should be made on your SOFS cluster to take advantage of SMB Multichannel, RDMA etc. These settings are not optimized by SCVMM during deployment so there may be some messaging required after deployment for production deployments. The good thing here is the bulk of the deployment has been done for you.
You now hopefully have a better idea of the capabilities SCVMM 2012 R2 has to offer when it comes to deploying and managing Scale-Out File Servers and Storage Spaces. Hopefully I will continue with some content on this subject in future posts.
-Nick